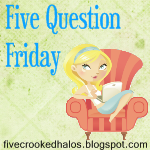 Head on over to Mama M's blog to read the others and link up!
1. Whats your favorite horror movie?
I do
NOT
do horror movies. If I
HAD
to pick.. something M Night Shyamalan, I guessssss.
2. Bath tub or Hot tub?
Depends. Is it a huge jacuzzi tub with jets? The Bath Tub for sure, but like a standard tub in a tub/shower combo, I pick hot tub.
3. Do you prefer to view a movie at the theater or at home?
Home. I like to be able to pause. And my husband always fall asleep, so its kind of a waste of money to GO to the theaters.
4. If you could chose a maid, cook or chauffeur, which one would you choose?
Chauffeur. I already don't drive because I'm terrified, so this would be helpful,
but
I do need a maid.
5. Electric Slide, Boot Scootin' Boogie, or the Macarena?
It's electric, boogie woogie woogie!