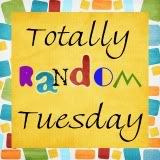 Maybe you call them nuks, pacifiers, binks, or paci's in your house. In our house its a binkey.
Yes, I'm guilty. I am a binkey giving mommy. But currently I am a binkey taking away mommy. Mason has been on his final binkey for about 3 months. I told him when it was gone, I wasn't buying anymore. He likes to
chew
on them and they become, well
disgusting
. So last night the tip of the binkey finally broke off and the binkey went in the trash can. He was up til almost midnight last night, not fun.
Who knows if I will be strong and not buy another one. Last night he asked me if "santa will bring new binkeys?" How heartbreaking. I was a thumb sucker and
shamefully
til I was waaay too old to admit here, but I needed to be ready to give it up. I would have been so mad if someone took my thumb away. And like I was, Mason
only
uses his binkey when he is sleeping, or first waking up. It never leaves the house, unless we or he will be sleeping somewhere else.
Did you have binkey kids? How old where they when they gave it up? How'd you manage?!?